A visit to Milford is time well-spent.

It might be because it's Christmastime, but Milford feels like a real winter wonderland – Bedford Falls at the end of It's A Wonderful Life kind of vibes. There was a definite electricity in the air on a recent Saturday visit, even upon driving into the city limits. A word of praise here for Milford: the abundance of free street parking was most welcome. And honestly, a real load off one's mind. Not worrying about hustling back to the meter or opening a parking app during a carefree excursion was a nicety too often taken for granted.
Speaking of parking, take advantage of the abundance of spots a block or two away from Main Street, to appreciate the new builds, including rows of nice-looking condos, on the way to the main thoroughfare. There are lots of cool spots – businesses, retail, restaurants, breweries – off Main Street, but starting there, with the bulk of Milford businesses, is the best way to get a slice of the city.
Milford's effervescent charm will surprise you. Not fifteen minutes after arriving, while poking around inside a store called Scintilla's Creations, the unmistakable sound of a trombone came from outside. A throng of shoppers ventured outside to witness the spectacle, beckoned by a little brass band that serenaded all of Main Street in front of Rivers Roads and Trails, a store whose purpose is self-explanatory.
Speaking of stores. Retail dominates the Main Street thoroughfare – from appliance repair to Bill's Lamp Shop, the endless record selection at Spiral Groove to the beautiful oil and watercolor works at Painted River Gallery to the whimsy and charm of Enchanted Moments, there really is something for everyone.
First, it doesn't hurt to caffeinate. A brass-band-observer suggested stopping into Old Milford Parlor. Another opportunity for utter delight came upon setting foot in this former barber shop-turned-ice-cream-parlor. The decor is vintage fun: a collection of old license plates, a massive JFK election poster, an old barber chair and antique cash register and a lifesize Santa, in a nod to the holiday. Old Milford Parlor has a nice selection of milk alternatives, like oat milk and almond milk, and if you're in the mood for a cold ice cream treat, there are plenty of options there, too.
After procuring a beverage, let the holiday spirit guide you on your saunter down Main Street. Some other charming notes were found in the form of large paper snowflakes on the Old Milford Parlor windows, an address that read 129 ½ Main Street, and a holiday train display in the window of McCarthy Stevenot Insurance.
Now, on Saturdays, this unassuming insurance agency transforms into Nancy McCarthy's art studio, and what a treat that is. Her lovely photographs and prints are intermingled, on subjects that run the gamut from a photograph of a honeybee suspended in midair to a painting of a formerly feral Turkish Van cat reclining on the back of a couch.
If you take a left out of the agency and keep going, you'll pass Row House Gallery Custom Framing (they'll even digitize old cassettes and tapes!) before you come upon Spiral Groove Records.
Formerly housed on nearby Lila Avenue, Spiral Groove moved to Main Street in 2018 and is the definition of thriving. Upon entering, you'll be presented with an impeccable array of record players – a great set-up, really, for the entire shopping experience, because without a record player, how can you play any of the records that take up the bulk of the store? The whole backroom is filled with genre-categorized records, but not in a prescriptive way. Billy Squier albums are tucked in near Tame Impala's latest record. Basically, Spiral Groove is as unpretentious a record store as you could ask for. There's also a great selection of cheap CDs – remember those? – and cassettes. It's a fun way to spend the day, flipping through the greatest hits and groups of yesteryears.
But! Time waits for no one. Peel yourself away from Spiral Groove and keep heading down Main Street and you'll pass LeiMarie Limited, Ms. Cheri's Donuts, Chappy's Bar and Grill, the Governor and Chez Renee. Cross the street here and you'll pass the Fountain Specialist – never was there such an eclectic collection of water accessories. There's also a surprisingly robust collection of art galleries to be found on Main Street, including Painted River Art Studio. Stop on in and chat with proprietor Nancy Achberger, whose primary medium is oil, but she's got a nice selection of watercolors, too. You can take lessons at Painted River, or pick up a great piece for a holiday gift for someone special. Artist Kate O'Connell Albert also has her photorealistic work on display and available for purchase.
So that thing about time – it was indeed in short supply on this particular visit to Main Street. After tearing yourself away from the lovely art at Painted River, head back up Main Street to scope out the rest of this particular spread of shops. Stop in Enchanted Moments – in business for 17 years! – to buy something eclectic and special for the astrology-obsessed friend or family member in your life. Or pick up some loose-leaf tea, or essential oils, or crystals, or ornaments, or – well, you get the picture. The selection is wild. Be prepared to spend a good chunk of time – that fleeting mistress! – in Enchanted Moments. (There's definitely a time-related pun in here but it can wait….did it again!)
More clothing and gift shops dot this part of Main Street, including One Stop Ladies Shop, Made New and Primitives & More Milford. And then suddenly you'll be standing in front of Rivers Roads and Trails, which is a haven for all levels of outdoorsy types.
From kayaks to wool socks, roof tents to hiking boots, Rivers Roads and Trails is jam-packed with every item possible for every activity possible that occurs in Mother Nature. The staff is very attentive, nice and helpful – a real retail-in-a-small-town kind of vibe. It's that personalized focus that makes a repeat customer, and to be quite honest, Milford's Main Street stores seem designed to build a loyal following.
There are tons of opportunities for charm all over Main Street. Be sure to check out the booths at the Mercantile Mall – there's a vintage Cincinnati Ballet poster for sale, as of December 11! – and Villa Sanctuary – a gift shop-slash-jewelry store – as well as more restaurants and residences.
Whatever season you stop by, Milford is absolutely worth your time.
THESE  BUSINESS DISTRICTS ARE COMING TO THE FOREFRONT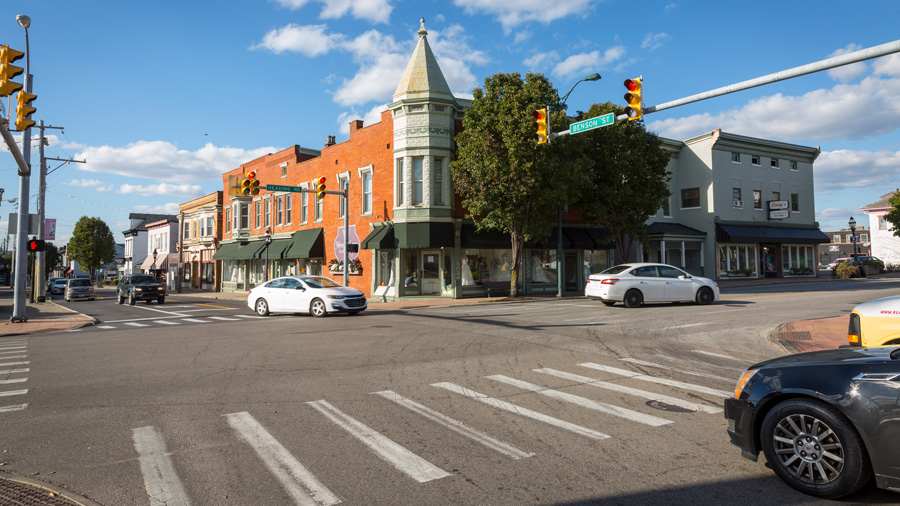 READING
Settled in 1797 and bearing the motto "the crossroads of opportunity," the city of Reading has a friendly, suburban atmosphere with big-city proximity. The city spans nearly three miles and boasts several parks, a farmer's market, and a healthy mix of business and industry. Reading has something for everyone, both in its own 10,000+ population and the broader community.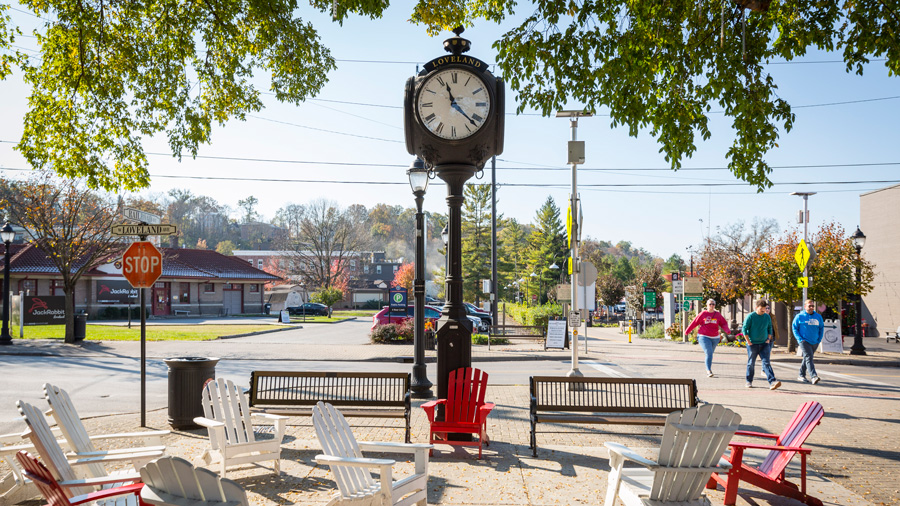 LOVELAND
Spanning across three counties in Southwest Ohio, the city of Loveland is known as "the sweetheart of Ohio." Known as a resort town in its early days, Loveland is still home to much natural and scenic charm, including the Little Miami River, and is a major stop on the Little Miami Scenic Trail. With a growing population of over 13,000, Loveland holds much historic charm and enviable positioning in the region.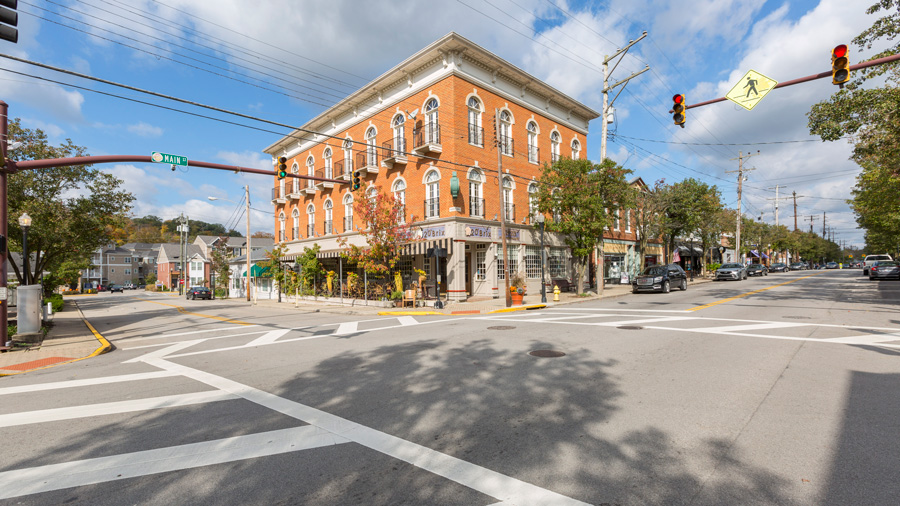 MILFORD
Founded in 1797, the city of Milford is still home today to several historical buildings, especially on the Old Milford Main Street, which is a popular destination for visitors across the region. Milford and its surrounding townships are also home to several substantial businesses. Milford is home to a Designated Outdoor Refreshment Area (DORA) that brings economic tourists from around the region to enjoy its offerings. Occupying nearly four miles and home to more than 6,000, Milford also hosts segments of the Little Miami River and the Little Miami Bike Trail.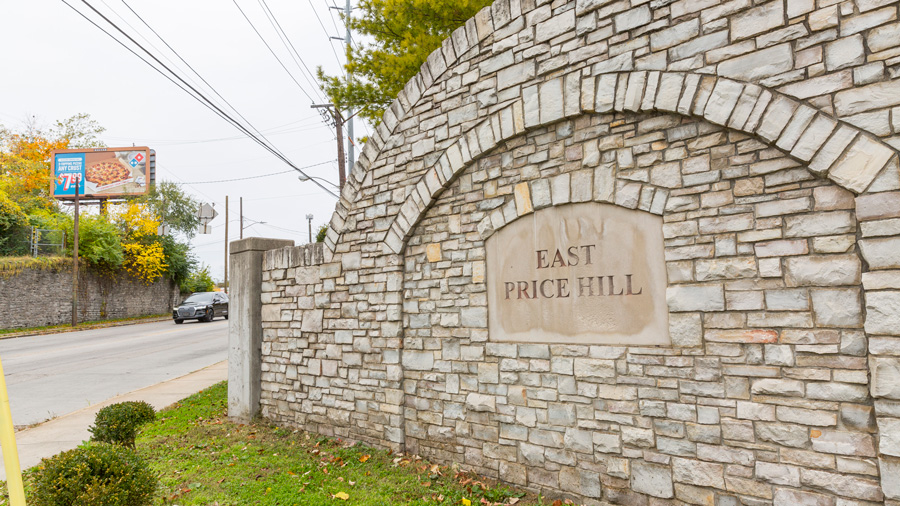 EAST PRICE HILL
East Price Hill is an historical neighborhood carving an exciting path in the 21st Century. East Price Hill boasts the best of both worlds, melding an urban environment with a tight-knit community mindset. East Price Hill features an expanding crop of local businesses and is home to the Enright Ridge Urban Eco-Village, dedicated to sustainability. Spanning three square miles, East Price Hill has more than 15,000 residents and counting.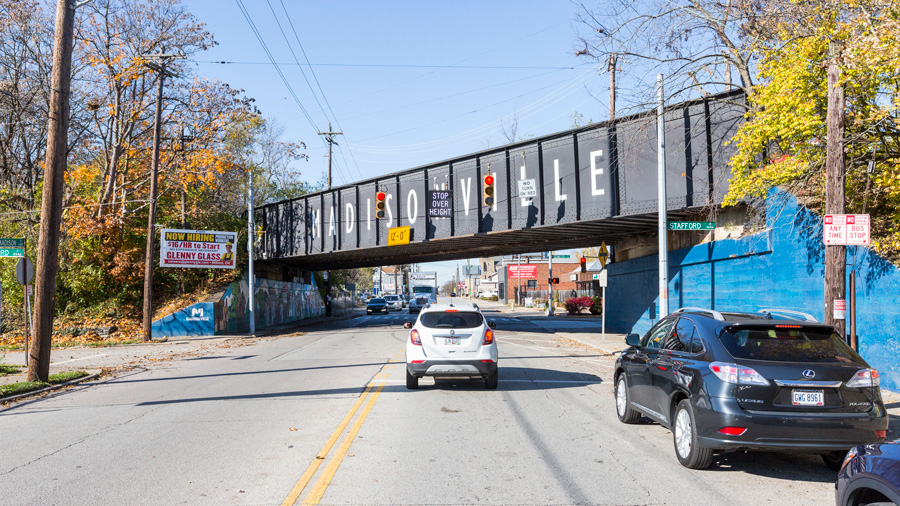 MADISONVILLE
Located about ten miles northeast of Cincinnati, Madisonville is one of the city's oldest neighborhoods, and is named for James Madison, fourth president of America. Home to an abundance of residential and commercial properties, and more than 9,000 residents, Madisonville is in the midst of exciting redevelopment that retains the charm of its rich history and diversity.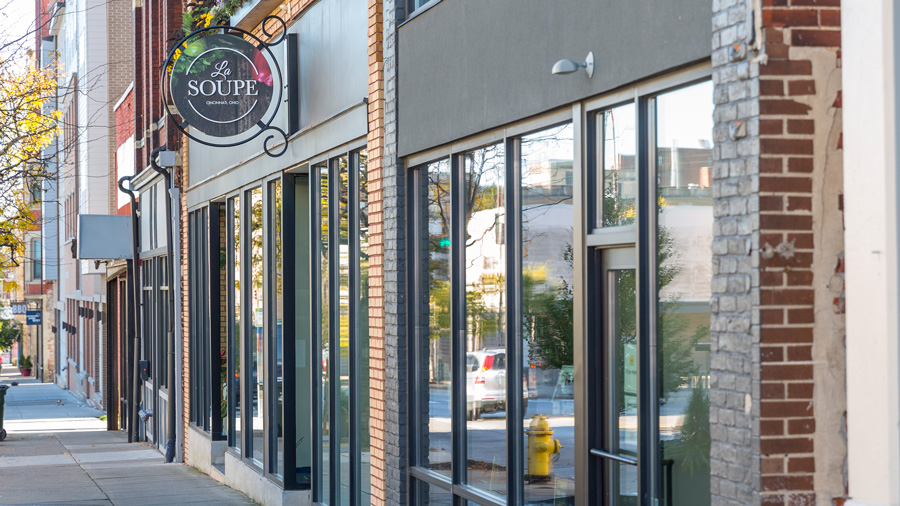 WALNUT HILLS
With its diverse mix of greenspace, historical buildings and new businesses and commercial endeavors, Walnut Hills is one of Cincinnati's oldest neighborhoods, founded in 1804. Walnut Hills is home to several regional destinations, including Eden Park and the Harriet Beecher Stowe House. The neighborhood of more than 6,000 residents has undergone a transformative redevelopment in recent years, rehabbing disused buildings and homes and infusing energy into the popular area.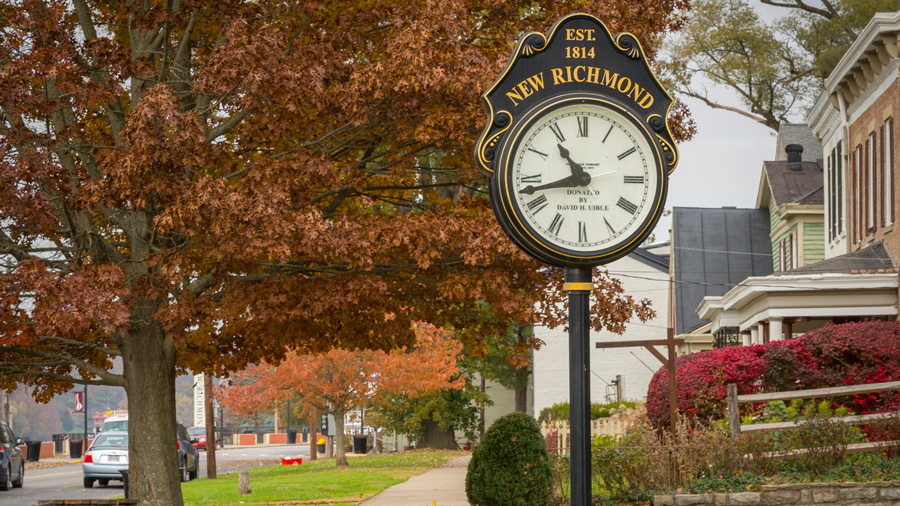 NEW RICHMOND
Founded in 1814 along the Ohio River, the village of New Richmond is a charming river village home to over 2,500 residents. Spanning nearly four-square miles and located in Clermont County, New Richmond is home to a Designated Outdoor Refreshment Area (DORA) that brings economic tourists from around the region to enjoy its offerings. New Richmond is also home to three designated historical sites, including the Ross Gowdy House Museum, the world's only Cardboard Boat Museum, and the Birthplace of President Ulysses S. Grant.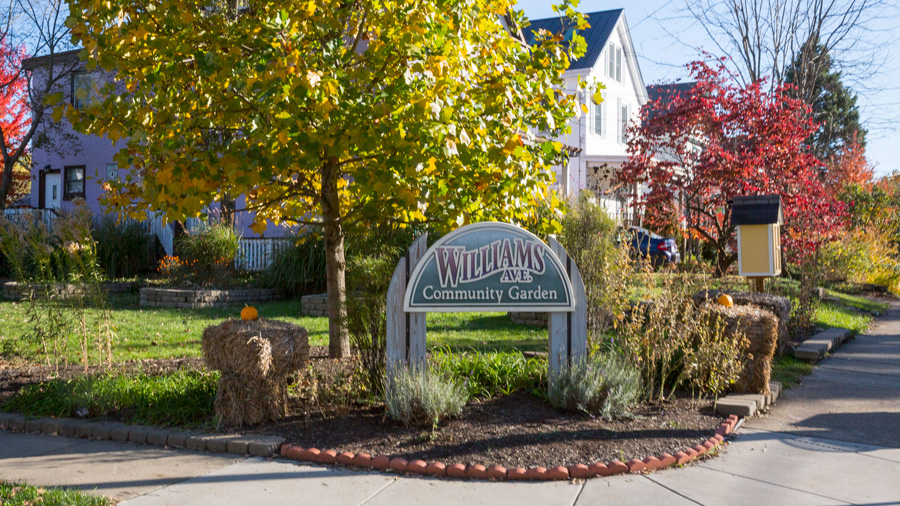 NORWOOD
Also known as the Gem of the Highlands, the city of Norwood is central to everything in the Greater Cincinnati region. Founded in 1809, Norwood has historically been a center of industry. In recent years, the three-mile-community's robust retail and small-business hubs have taken the spotlight. Today, Norwood boasts a diverse mix of small and large-scale commerce, anchors several prominent regional businesses, and is home to more than 19,000 people.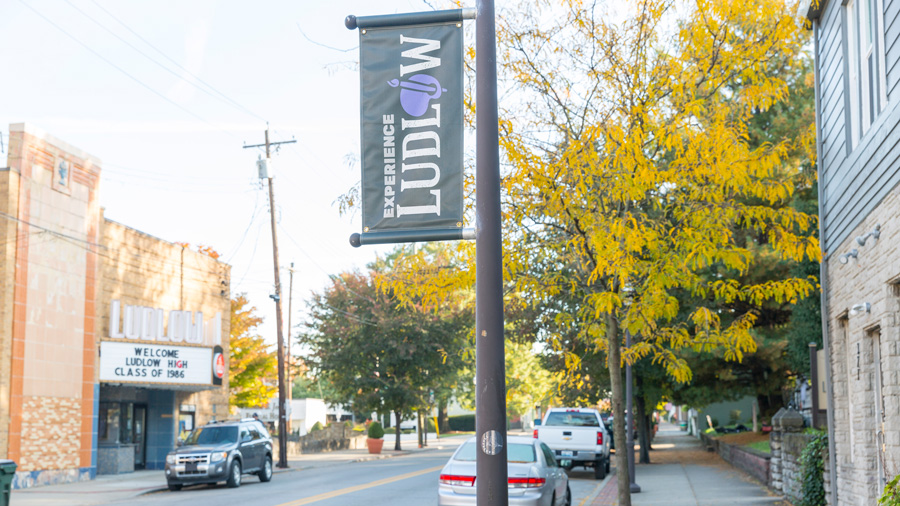 LUDLOW, KY
Located along the Ohio River, the city of Ludlow, Kentucky is just over a mile in size and a suburb of both Covington, Kentucky, and Cincinnati, Ohio. Elm Street is home to Ludlow's central business district, with a variety of restaurants, retail, cultural and entertainment options suited for the city's diverse array of nearly 5,000 residents.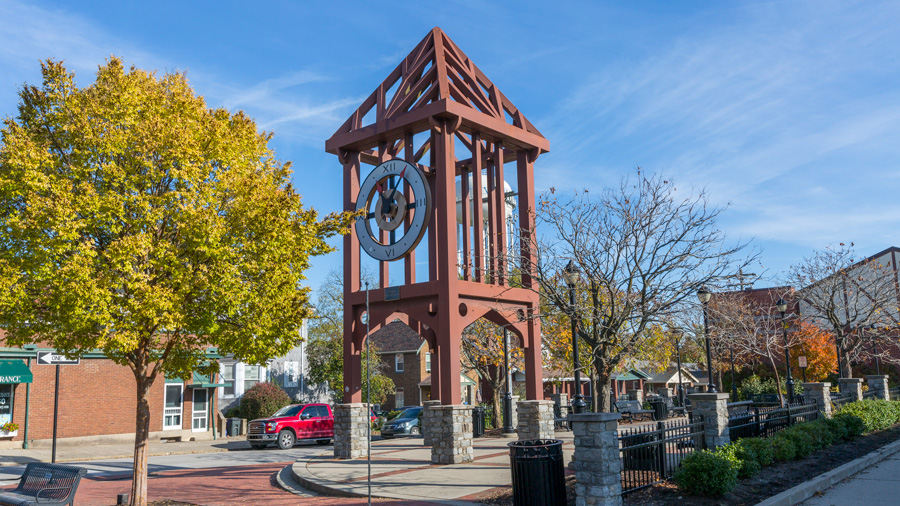 FORT THOMAS
The largest city in Campbell County, Kentucky, Fort Thomas is located directly opposite of Cincinnati across the Ohio River, and officially part of the Cincinnati-Northern Kentucky metropolitan area, with more than 16,000 residents populating its nearly six square mile region. Named in honor of General George Henry Thomas, Fort Thomas was a key site in the Civil War, and remnants of war trenches are still visible.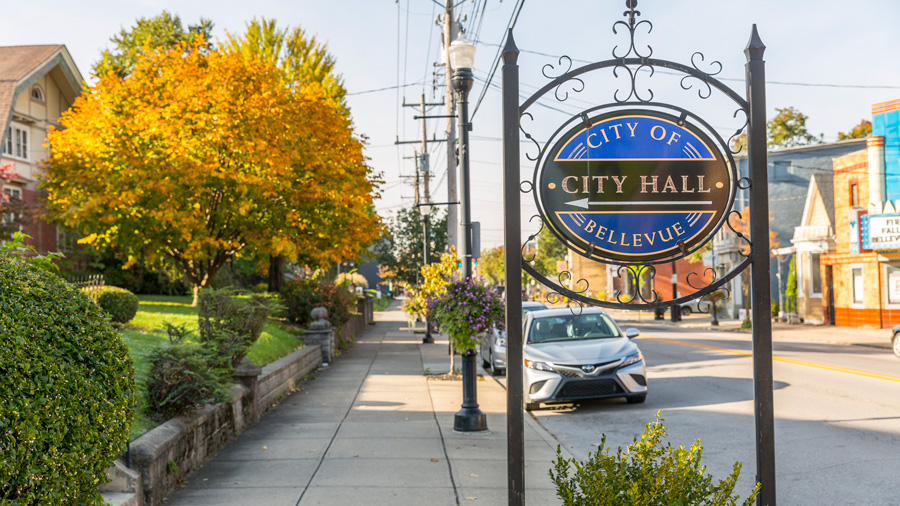 BELLEVUE
Incorporated in 1870, Bellevue, Kentucky is located just three miles from the city of Cincinnati. The city boasts an abundance of historic and unique architecture, and to this day, the Fairfield Avenue Historic District serves as its main business thoroughfare for its nearly 6,000 residents. The city is also home to the Taylor's Daughters Historic District, and has seen much renovation and historic preservation in recent years.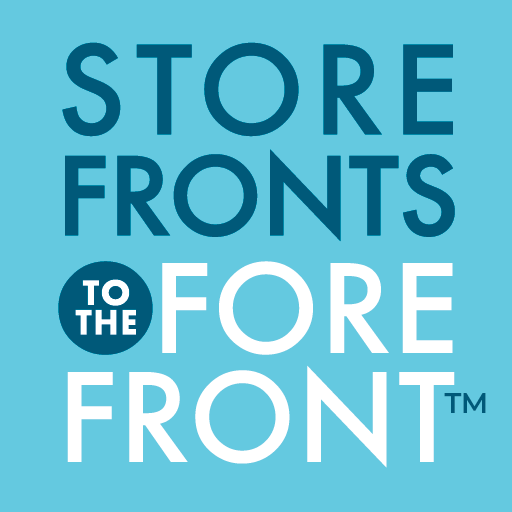 Duke Energy and the Cincinnati Regional Chamber are proud to partner together for Storefronts to the Forefront™, a new initiative designed to further strengthen our region's many unique neighborhood business districts

Through intentional thinking and regional inclusion, the Cincinnati Chamber is leading with a bold voice for business, expanding the region's talent base and harnessing the power of Cincinnati's unique offerings.
© Cincinnati USA Regional Chamber