From bridal finery to killer burgers, Reading has something for everyone.

Perhaps best known as Cincinnati's premiere bridal district, Reading holds plenty of charm, whether or not you're getting hitched in the immediate future. Bridal boutiques and wedding-centric shops represent the bulk of business on both Reading and Benson, two of the main streets in the city, but you can pop around to your heart's content, with or without a betrothed.
Bess Paper Goods & Gifts is one of the shops that can stand alone from wedding hustle and bustle, or act as a nice respite from the busy-ness of wedding planning. Owner Kristin Joiner bought the building and renovated the entire thing, and even lives above the shop. Over the course of its history, the building had housed a shoe store, a mattress store and a hair salon.
The shop is home to Bess the Press, an old school printing press on which Kristin produces a beautiful assortment of cards and commercial paper pieces. She hosts crepe paper flower-making classes and there are massive peonies hanging on the wall that can be rented for wedding day backdrops. There are cute pens and cool handmade jewelry for sale, too, and Kristin also works with brides to create custom invitations. Definitely make a stop here on your Reading visit.
Lou + Teak also exists in both the bridal and non-bridal world of shopping, offering refinished antique and vintage furniture. There are also concrete pieces – like planters – available. If you happen to be shopping with little ones in tow, Lou + Teak has you covered: the shop also has a kid corner with markers and fun activities for the kiddos to stay occupied while parents shop around.
Now, since it is a bridal district, you really should check out some of the shops – for dresses and other wedding paraphernalia. Chrissy Lane Design has all the unique pieces to make a wedding pop – including cool customizable neon signs. Beauty salons like Alter Ego and Flawless Hair & Makeup make brides feel their best for their big day. For the perfect dress, check out the gorgeous gowns at Wendy's Bridal, the White Wisteria Bridal Boutique, and Luxe Redux Bridal Boutique. The inclusively sized Love Curvy Bridal is brought to you by the same proprietors behind Lace Bridal Couture. Owners Kelly and Allen Hill seek out designers exclusive to Cincinnati, giving brides unique options for their big day. Something New, Borrowed and Blue offers beautiful gown options at a discount for the budget-conscious bride. Serving up more couture looks is Blush Bridal. BoChic Bridal Boutique is by appointment only. Carrie Karibo Bridal offers an intimate shopping experience with plenty of options for every prospective bride.
Of course, no wedding is complete without photographic evidence that it took place. Hit up Jessica Wiggins Photography, Jill Matthews Photography and Images by Daniel Michael for all your photography needs.
In the not-bridal world, there are plenty of cool shops and restaurants to check out in Reading. Swing through Foley's Irish Pub for some darn good pub food. Redwine & Co. serves up food through an onsite food truck, so you know it will always be hot, the drink menu is extensive, and there's live music. It's worlds away from the bridal experience – and would make for a killer stop after a long day of shopping. So would Lucy's Diner, serving up excellent home-cooked meals at can't-miss prices.
Whatever your reason for visiting, you're sure to find time spent in Reading is time well-spent.
THESE  BUSINESS DISTRICTS ARE COMING TO THE FOREFRONT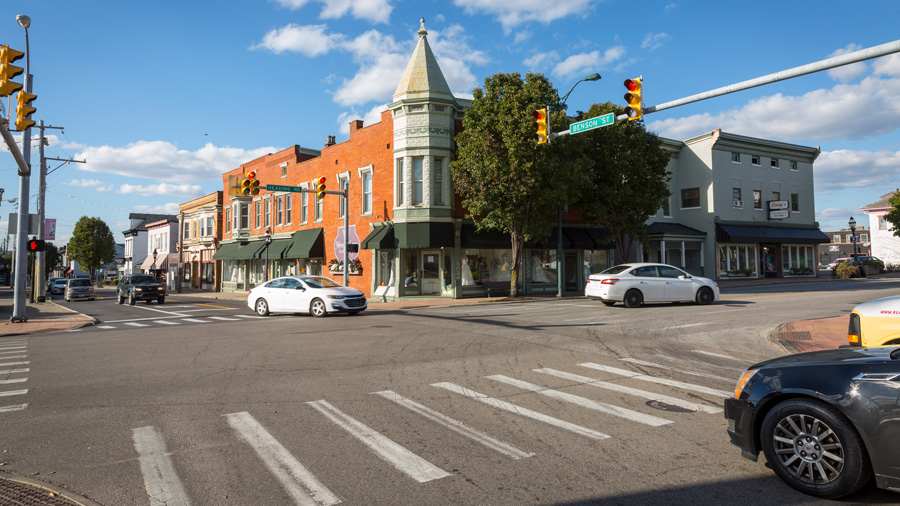 READING
Settled in 1797 and bearing the motto "the crossroads of opportunity," the city of Reading has a friendly, suburban atmosphere with big-city proximity. The city spans nearly three miles and boasts several parks, a farmer's market, and a healthy mix of business and industry. Reading has something for everyone, both in its own 10,000+ population and the broader community.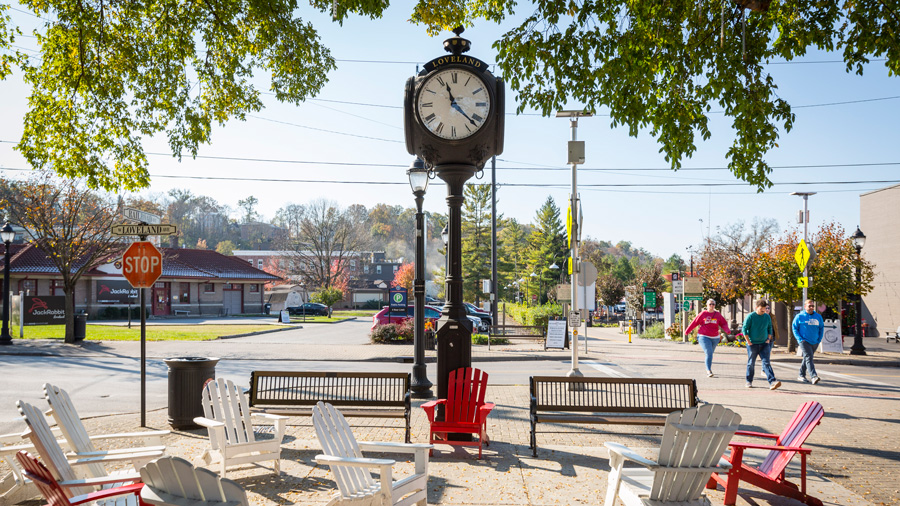 LOVELAND
Spanning across three counties in Southwest Ohio, the city of Loveland is known as "the sweetheart of Ohio." Known as a resort town in its early days, Loveland is still home to much natural and scenic charm, including the Little Miami River, and is a major stop on the Little Miami Scenic Trail. With a growing population of over 13,000, Loveland holds much historic charm and enviable positioning in the region.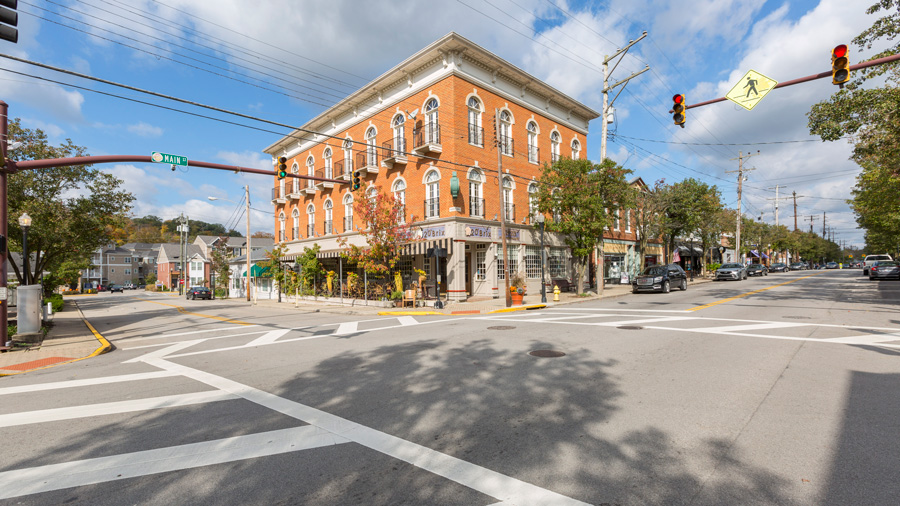 MILFORD
Founded in 1797, the city of Milford is still home today to several historical buildings, especially on the Old Milford Main Street, which is a popular destination for visitors across the region. Milford and its surrounding townships are also home to several substantial businesses. Milford is home to a Designated Outdoor Refreshment Area (DORA) that brings economic tourists from around the region to enjoy its offerings. Occupying nearly four miles and home to more than 6,000, Milford also hosts segments of the Little Miami River and the Little Miami Bike Trail.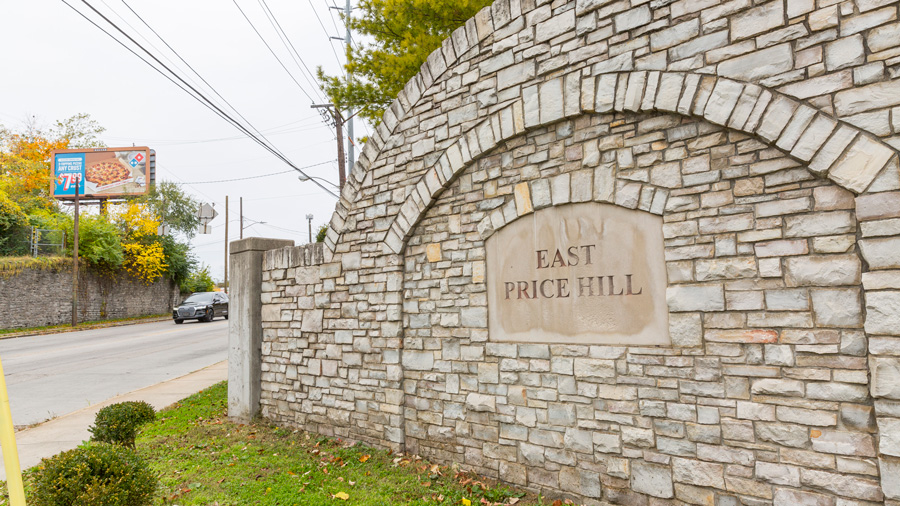 EAST PRICE HILL
East Price Hill is an historical neighborhood carving an exciting path in the 21st Century. East Price Hill boasts the best of both worlds, melding an urban environment with a tight-knit community mindset. East Price Hill features an expanding crop of local businesses and is home to the Enright Ridge Urban Eco-Village, dedicated to sustainability. Spanning three square miles, East Price Hill has more than 15,000 residents and counting.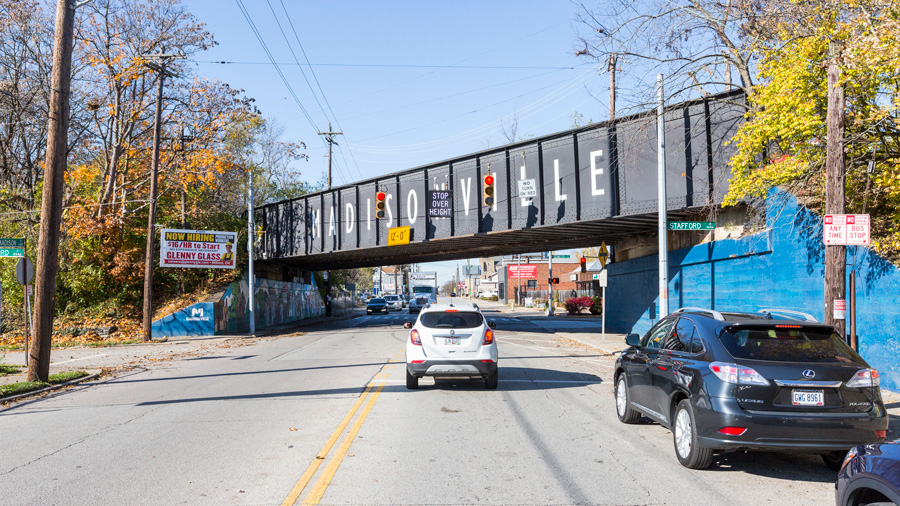 MADISONVILLE
Located about ten miles northeast of Cincinnati, Madisonville is one of the city's oldest neighborhoods, and is named for James Madison, fourth president of America. Home to an abundance of residential and commercial properties, and more than 9,000 residents, Madisonville is in the midst of exciting redevelopment that retains the charm of its rich history and diversity.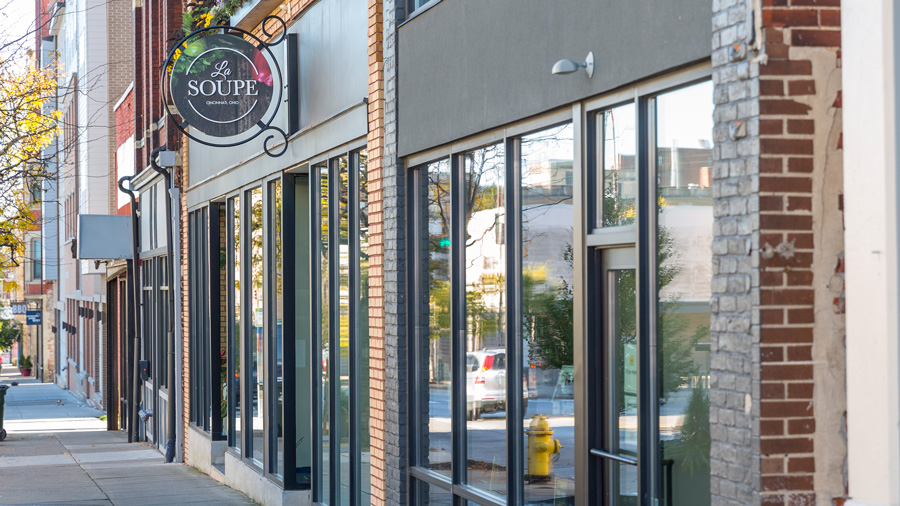 WALNUT HILLS
With its diverse mix of greenspace, historical buildings and new businesses and commercial endeavors, Walnut Hills is one of Cincinnati's oldest neighborhoods, founded in 1804. Walnut Hills is home to several regional destinations, including Eden Park and the Harriet Beecher Stowe House. The neighborhood of more than 6,000 residents has undergone a transformative redevelopment in recent years, rehabbing disused buildings and homes and infusing energy into the popular area.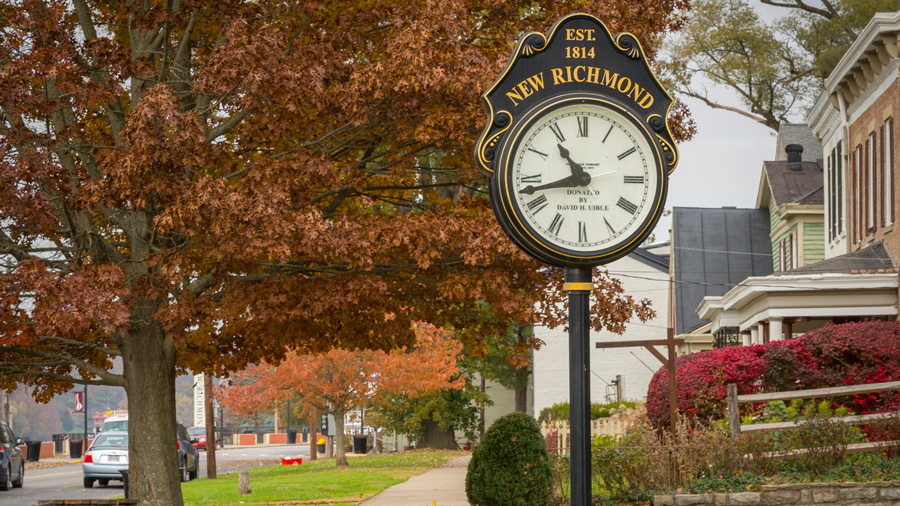 NEW RICHMOND
Founded in 1814 along the Ohio River, the village of New Richmond is a charming river village home to over 2,500 residents. Spanning nearly four-square miles and located in Clermont County, New Richmond is home to a Designated Outdoor Refreshment Area (DORA) that brings economic tourists from around the region to enjoy its offerings. New Richmond is also home to three designated historical sites, including the Ross Gowdy House Museum, the world's only Cardboard Boat Museum, and the Birthplace of President Ulysses S. Grant.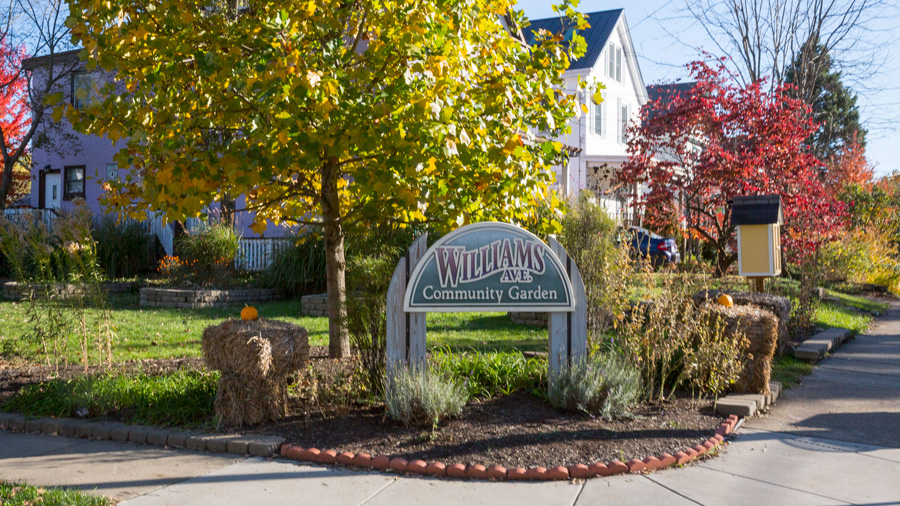 NORWOOD
Also known as the Gem of the Highlands, the city of Norwood is central to everything in the Greater Cincinnati region. Founded in 1809, Norwood has historically been a center of industry. In recent years, the three-mile-community's robust retail and small-business hubs have taken the spotlight. Today, Norwood boasts a diverse mix of small and large-scale commerce, anchors several prominent regional businesses, and is home to more than 19,000 people.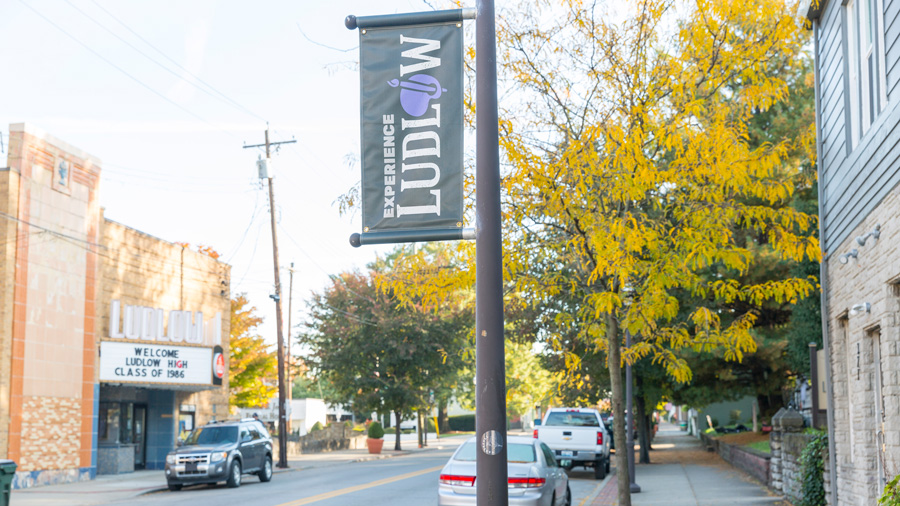 LUDLOW, KY
Located along the Ohio River, the city of Ludlow, Kentucky is just over a mile in size and a suburb of both Covington, Kentucky, and Cincinnati, Ohio. Elm Street is home to Ludlow's central business district, with a variety of restaurants, retail, cultural and entertainment options suited for the city's diverse array of nearly 5,000 residents.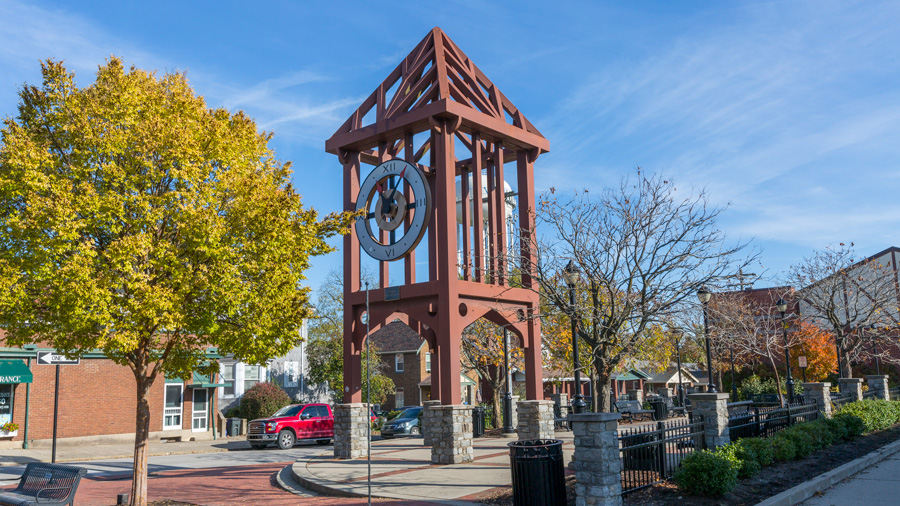 FORT THOMAS
The largest city in Campbell County, Kentucky, Fort Thomas is located directly opposite of Cincinnati across the Ohio River, and officially part of the Cincinnati-Northern Kentucky metropolitan area, with more than 16,000 residents populating its nearly six square mile region. Named in honor of General George Henry Thomas, Fort Thomas was a key site in the Civil War, and remnants of war trenches are still visible.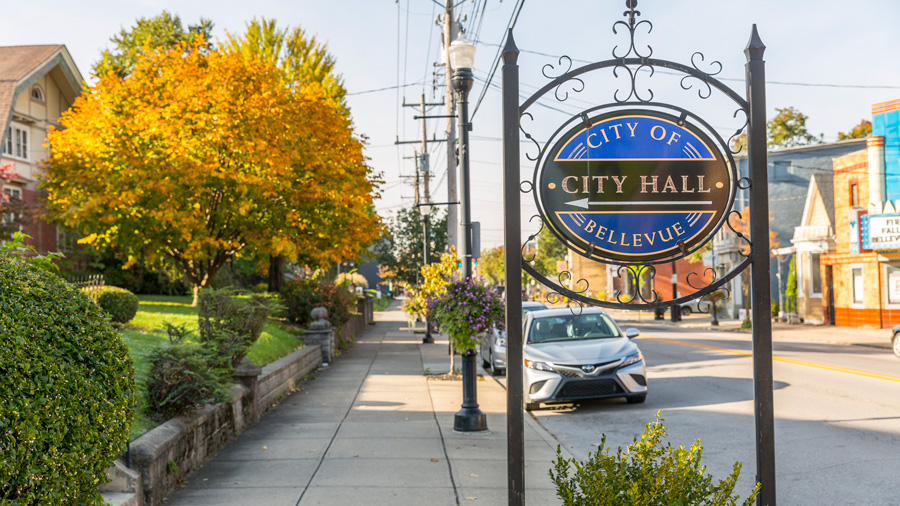 BELLEVUE
Incorporated in 1870, Bellevue, Kentucky is located just three miles from the city of Cincinnati. The city boasts an abundance of historic and unique architecture, and to this day, the Fairfield Avenue Historic District serves as its main business thoroughfare for its nearly 6,000 residents. The city is also home to the Taylor's Daughters Historic District, and has seen much renovation and historic preservation in recent years.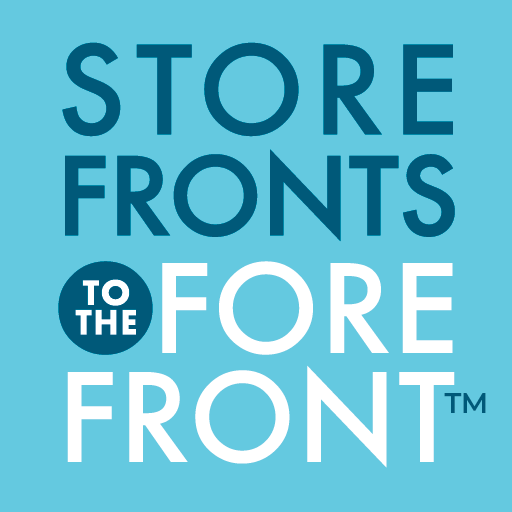 Duke Energy
and the
Cincinnati Regional Chamber
are proud to partner together for Storefronts to the Forefront™, a new initiative designed to further strengthen our region's many unique neighborhood business districts

Through intentional thinking and regional inclusion, the Cincinnati Chamber is leading with a bold voice for business, expanding the region's talent base and harnessing the power of Cincinnati's unique offerings.
© Cincinnati USA Regional Chamber