Edible cookie dough with a side of soft serve. Get to Ft. Thomas stat!
Make sure you wear walking shoes and are prepared to be delighted: Fort Thomas has many treats and treasures along both N. Fort Thomas Avenue and S. Fort Thomas Avenue. Head down either street and you're guaranteed to find good eats, a charming boutique, beautiful houses and nice people. 
Fuel up at Fort Thomas Coffee, whichever street you decide to amble down. The interior is airy and bright, and the coffee is hot and strong. The shop has a pretty cool little niche side concept: the FTC Coffee Bus. Because of the heavy concentration of schools in Fort Thomas (including the top-rated Fort Thomas Independent Schools), the FTC Coffee Bus delivers pre-ordered coffee at different times in the morning to seven of the area schools. Genius, right? But don't fret, even if you're not in school, you can enjoy a cup of joe.  
Nearby is the world headquarters of Colonel De Gourmet Herbs and Spices, where everything they make is made. This expansive herb and spice company has some of the most flavorful blends you'll ever encounter. Pick up something eclectic for the foodie in your life.  
One of the beautiful things about Fort Thomas is the cozy, community feeling. The Fort Thomas Drug Center definitely has that community vibe – from prescriptions to a bang-up assortment of greeting cards, this is one of those places that rounds out a neighborhood. Smitty's Barber Shop, Vanity Salon and North Avenue Salon and Barbering have a similar feeling – you can imagine plenty of regulars at all of these one-stop beauty shops! 
There are a plethora of other places that take their name from the city itself: Fort Thomas Parlor (coffee, ice cream and cookie dough!,) Fort Thomas Pizza & Tavern (self-explanatory,) Midway Cafe Fort Thomas (a Fort Thomas landmark,) the Olde Fort Pub (friendly neighborhood bar) and the Ft. Thomas Animal Hospital (helping your furry best friends!). Speaking of fur babies, stop into Pet Wants if you want to find the best all-natural cuisine options to keep your pets well-loved and healthy.  
Blue Marble Books is a can't-miss for the child reader in your life. Located on the second floor of a house a bit of a way from most of the business district, this independent children's bookstore has traded in the written word since 1979. Delight in your favorite childhood reads all over again here and pick up new favorites for little ones.  
For those looking to pick up a new skill, there are a few options. Tallant Music Studio offers lessons on a variety of instruments from several different instructors, and Kaleidoscope Dance, founded in 2005, offers dance classes for students 3 and up.  
If your sweet tooth is asking for some attention, Fort Thomas has you covered there, too. Fort Thomas Parlor, features the ultimate trio of indulgences: coffee, cookie dough and ice cream. Order a scoop of their edible cookie dough with a side of soft serve for a real treat. The Cookie Shop has some of the prettiest decorated sugar cookies you've ever set eyes on or sunk your teeth into.  
Opened in July 2020, Kampuchea Kitchen has amazing and authentic Cambodian cuisine. Grassroots & Vine is a farm-to-table restaurant and community hub that's worth a visit, too. Serving up delicious Chinese fare is New Garden, a Fort Thomas staple. Midway Cafe specializes in bar food, with a vast selection of whiskey and beer.  
No matter your mood, there's something to suit it in Fort Thomas. 
THESE  BUSINESS DISTRICTS ARE COMING TO THE FOREFRONT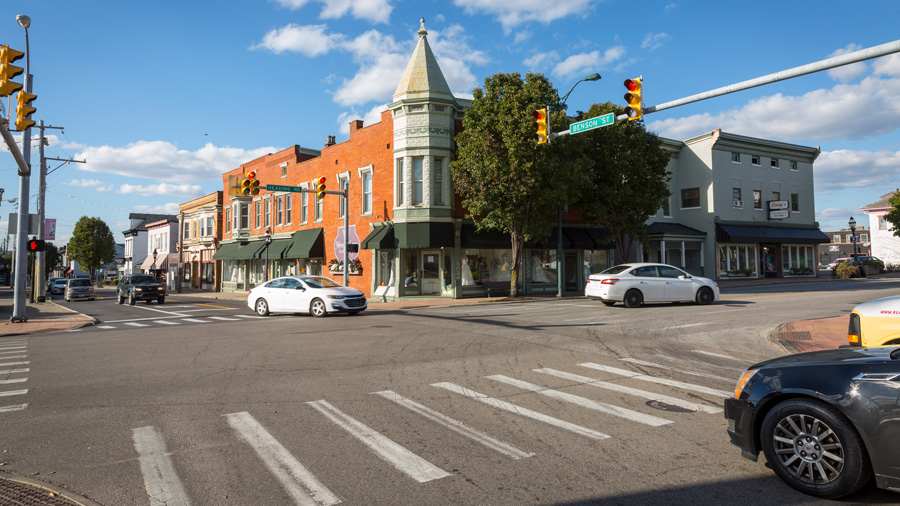 READING
Settled in 1797 and bearing the motto "the crossroads of opportunity," the city of Reading has a friendly, suburban atmosphere with big-city proximity. The city spans nearly three miles and boasts several parks, a farmer's market, and a healthy mix of business and industry. Reading has something for everyone, both in its own 10,000+ population and the broader community.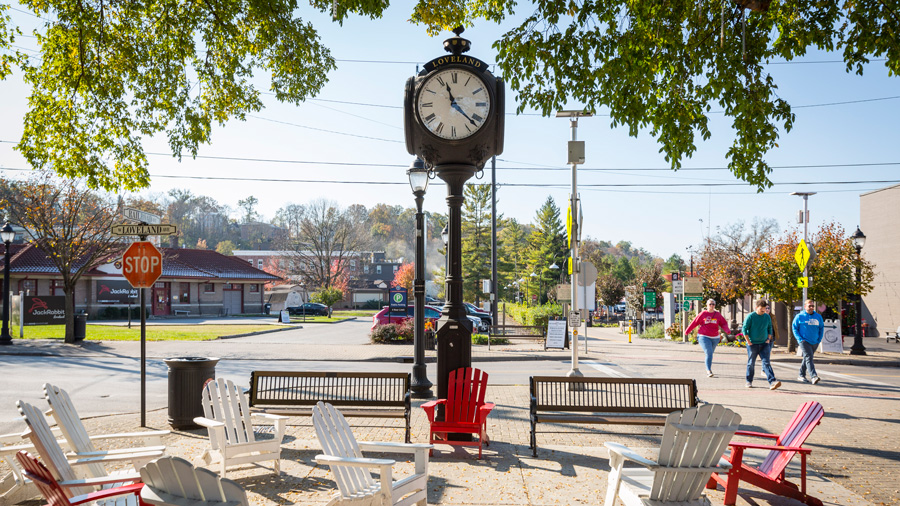 LOVELAND
Spanning across three counties in Southwest Ohio, the city of Loveland is known as "the sweetheart of Ohio." Known as a resort town in its early days, Loveland is still home to much natural and scenic charm, including the Little Miami River, and is a major stop on the Little Miami Scenic Trail. With a growing population of over 13,000, Loveland holds much historic charm and enviable positioning in the region.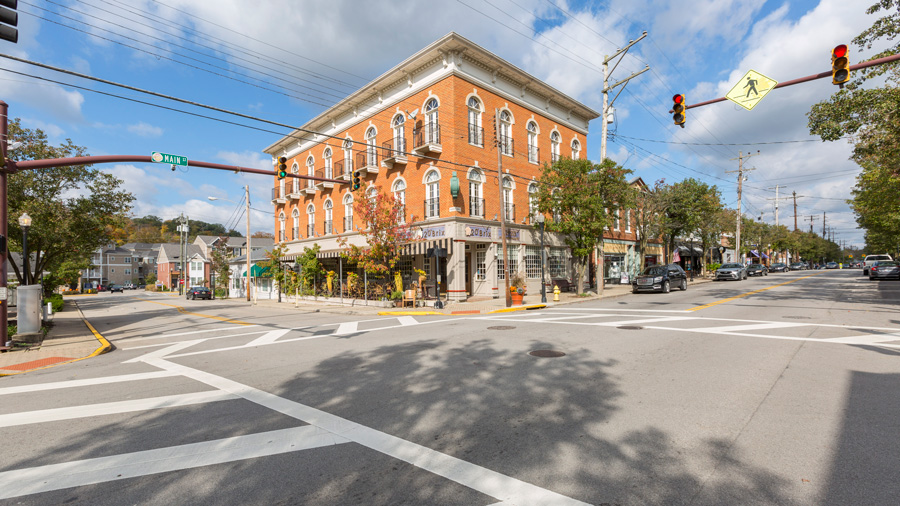 MILFORD
Founded in 1797, the city of Milford is still home today to several historical buildings, especially on the Old Milford Main Street, which is a popular destination for visitors across the region. Milford and its surrounding townships are also home to several substantial businesses. Milford is home to a Designated Outdoor Refreshment Area (DORA) that brings economic tourists from around the region to enjoy its offerings. Occupying nearly four miles and home to more than 6,000, Milford also hosts segments of the Little Miami River and the Little Miami Bike Trail.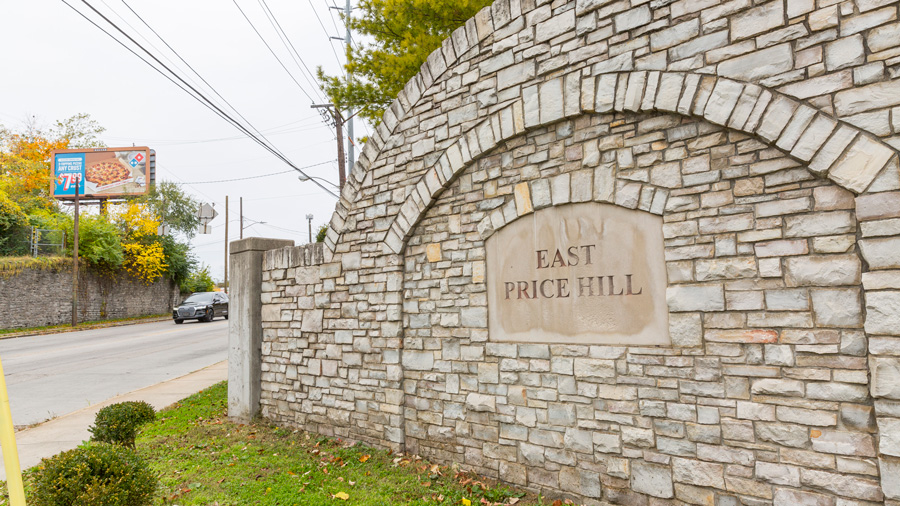 EAST PRICE HILL
East Price Hill is an historical neighborhood carving an exciting path in the 21st Century. East Price Hill boasts the best of both worlds, melding an urban environment with a tight-knit community mindset. East Price Hill features an expanding crop of local businesses and is home to the Enright Ridge Urban Eco-Village, dedicated to sustainability. Spanning three square miles, East Price Hill has more than 15,000 residents and counting.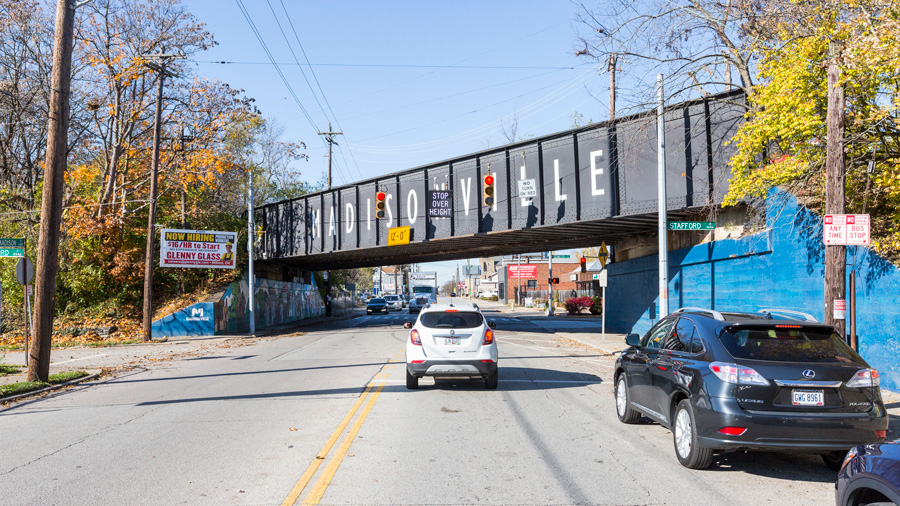 MADISONVILLE
Located about ten miles northeast of Cincinnati, Madisonville is one of the city's oldest neighborhoods, and is named for James Madison, fourth president of America. Home to an abundance of residential and commercial properties, and more than 9,000 residents, Madisonville is in the midst of exciting redevelopment that retains the charm of its rich history and diversity.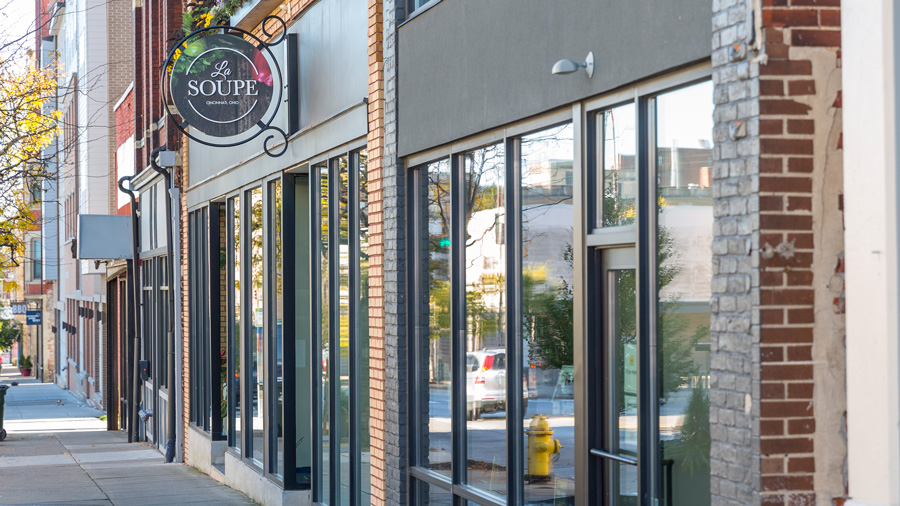 WALNUT HILLS
With its diverse mix of greenspace, historical buildings and new businesses and commercial endeavors, Walnut Hills is one of Cincinnati's oldest neighborhoods, founded in 1804. Walnut Hills is home to several regional destinations, including Eden Park and the Harriet Beecher Stowe House. The neighborhood of more than 6,000 residents has undergone a transformative redevelopment in recent years, rehabbing disused buildings and homes and infusing energy into the popular area.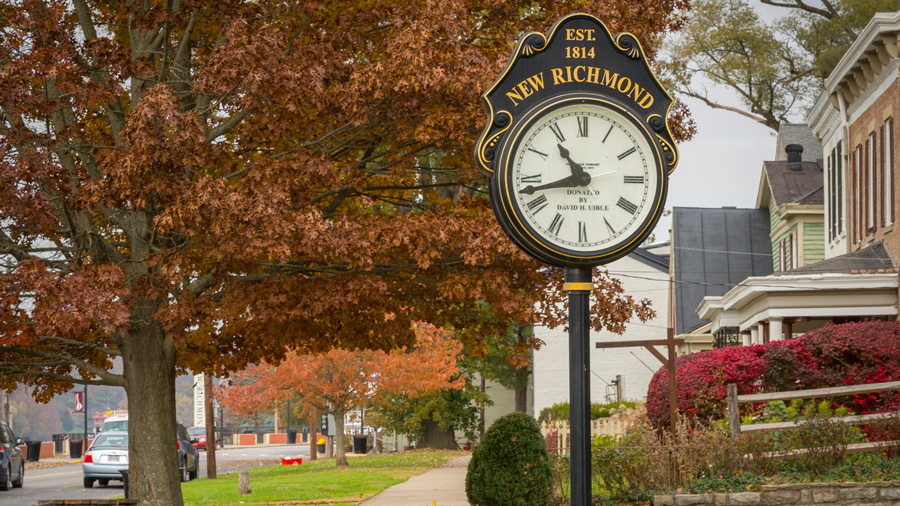 NEW RICHMOND
Founded in 1814 along the Ohio River, the village of New Richmond is a charming river village home to over 2,500 residents. Spanning nearly four-square miles and located in Clermont County, New Richmond is home to a Designated Outdoor Refreshment Area (DORA) that brings economic tourists from around the region to enjoy its offerings. New Richmond is also home to three designated historical sites, including the Ross Gowdy House Museum, the world's only Cardboard Boat Museum, and the Birthplace of President Ulysses S. Grant.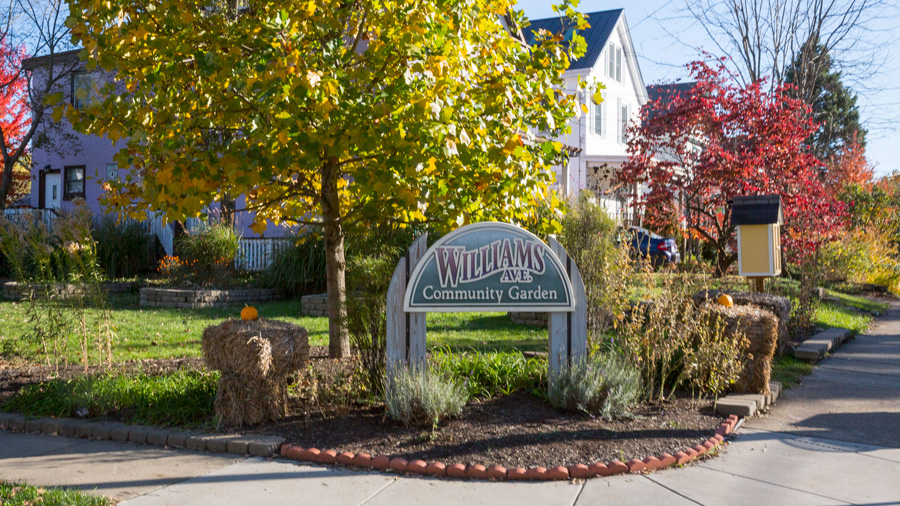 NORWOOD
Also known as the Gem of the Highlands, the city of Norwood is central to everything in the Greater Cincinnati region. Founded in 1809, Norwood has historically been a center of industry. In recent years, the three-mile-community's robust retail and small-business hubs have taken the spotlight. Today, Norwood boasts a diverse mix of small and large-scale commerce, anchors several prominent regional businesses, and is home to more than 19,000 people.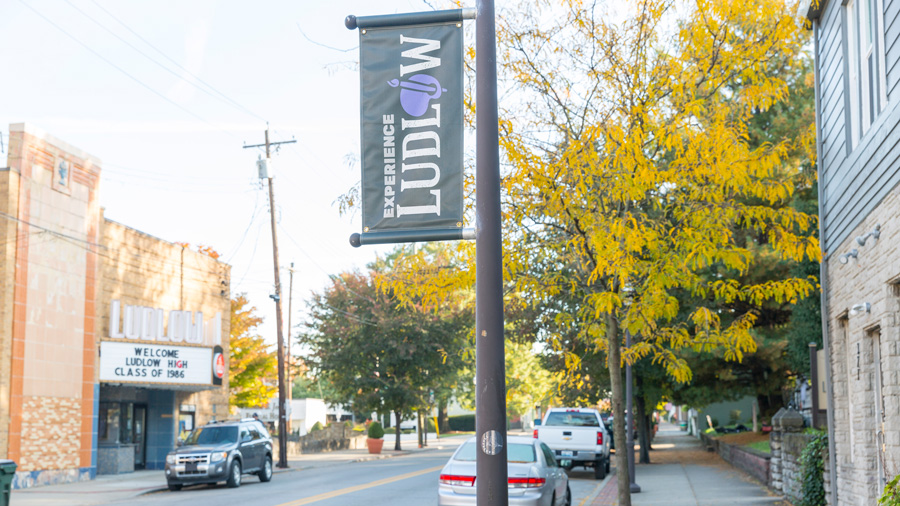 LUDLOW, KY
Located along the Ohio River, the city of Ludlow, Kentucky is just over a mile in size and a suburb of both Covington, Kentucky, and Cincinnati, Ohio. Elm Street is home to Ludlow's central business district, with a variety of restaurants, retail, cultural and entertainment options suited for the city's diverse array of nearly 5,000 residents.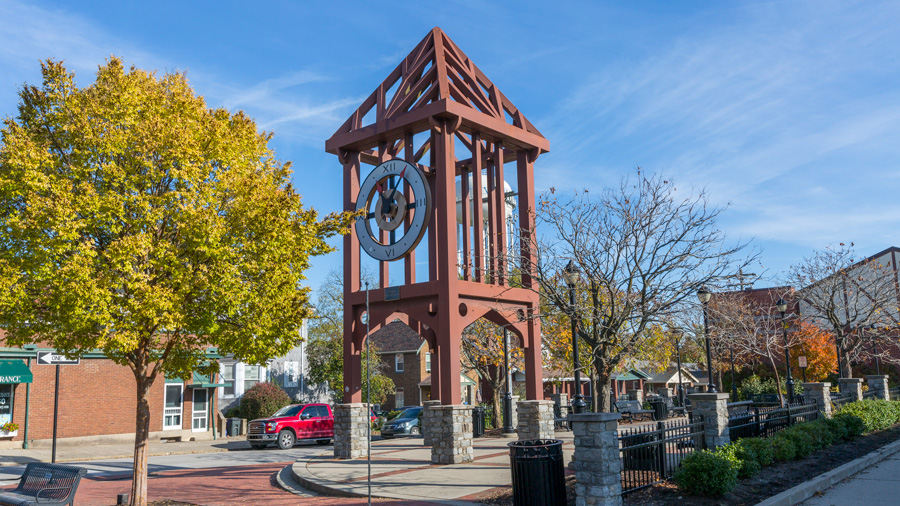 FORT THOMAS
The largest city in Campbell County, Kentucky, Fort Thomas is located directly opposite of Cincinnati across the Ohio River, and officially part of the Cincinnati-Northern Kentucky metropolitan area, with more than 16,000 residents populating its nearly six square mile region. Named in honor of General George Henry Thomas, Fort Thomas was a key site in the Civil War, and remnants of war trenches are still visible.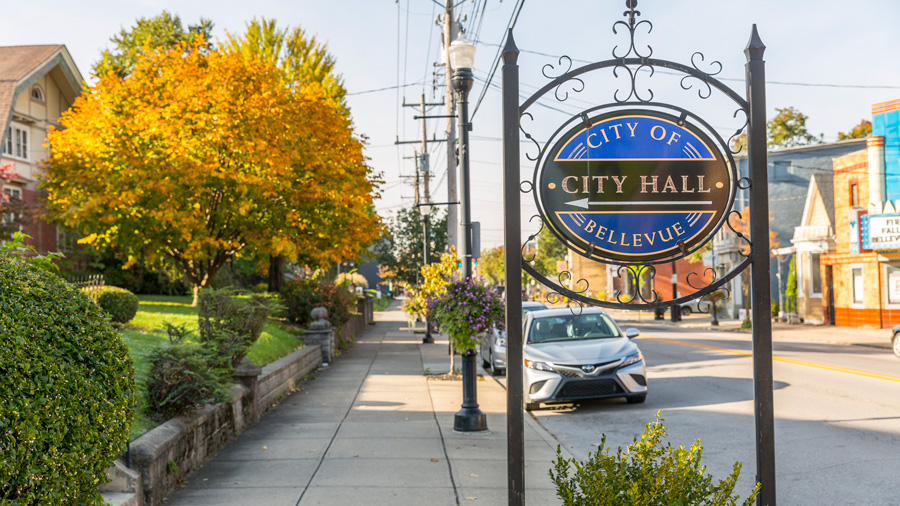 BELLEVUE
Incorporated in 1870, Bellevue, Kentucky is located just three miles from the city of Cincinnati. The city boasts an abundance of historic and unique architecture, and to this day, the Fairfield Avenue Historic District serves as its main business thoroughfare for its nearly 6,000 residents. The city is also home to the Taylor's Daughters Historic District, and has seen much renovation and historic preservation in recent years.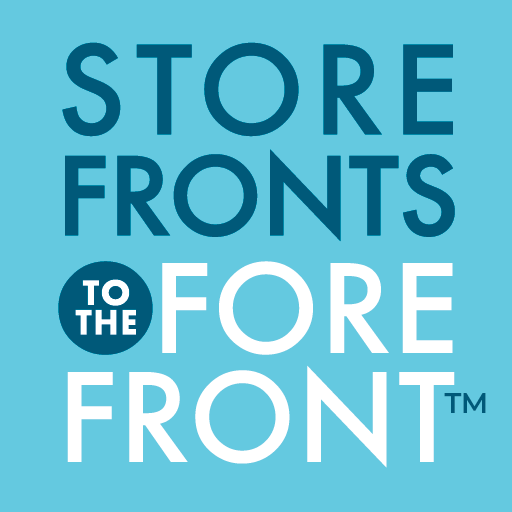 Duke Energy
and the
Cincinnati Regional Chamber
are proud to partner together for Storefronts to the Forefront™, a new initiative designed to further strengthen our region's many unique neighborhood business districts

Through intentional thinking and regional inclusion, the Cincinnati Chamber is leading with a bold voice for business, expanding the region's talent base and harnessing the power of Cincinnati's unique offerings.
© Cincinnati USA Regional Chamber